A Quick Way for Community Publishers to Make $2,400 or More in Digital Revenue
---
In the webinar on October 25, 2016, we discussed How to Use The Broadstreet Ad Server to Jumpstart Digital Sales.
You can view the entire recording in the video to the right and then dive right it and begin prospecting following the process outlined below. Happy Selling!
Getting Started
A simple way to get started with Broadstreet is by pre-selling the Emcee Beats Mixer Ad as outlined in the case study with Bob, the publisher of Mountain View Publishing, in the webinar (at 26:30 of the video).
The ad is meant to give you a feed of content from your advertisers that helps highlight what's going on in your community.
Goal of 10 Advertisers
X $240/advertiser/year ($20/month)
______________
$2,400 in Revenue
At this price point, it's hard for advertisers to say no but if this isn't your cup of tea, then they're plenty of other options available which are highlighted by Kenny, the co-founder of Broadstreet, starting at about the 8:40 mark of the video.
The Email Pitch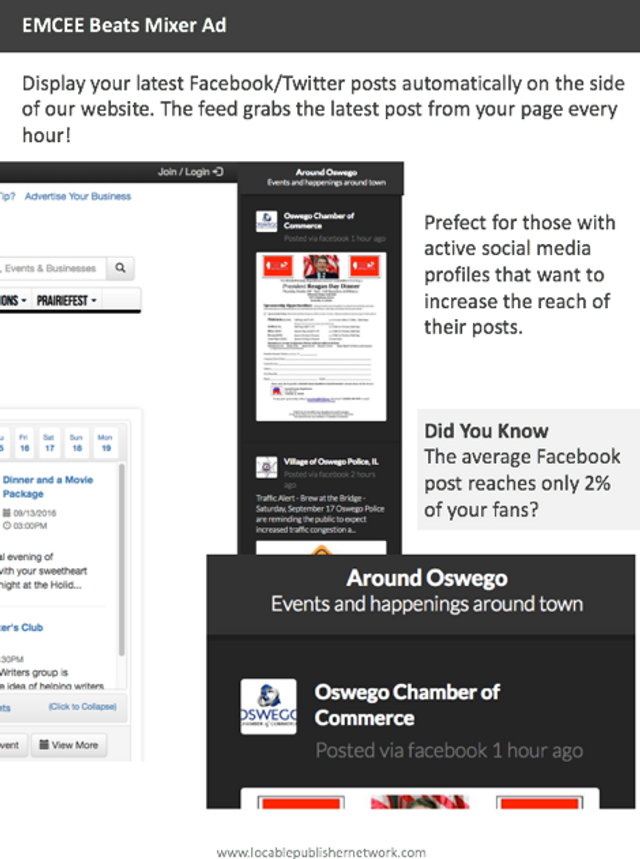 Here's the exact email pitch shown in the webinar and here's the Sales Flyer you can attach to the email.
Hi Jen,

We know you are very active on your business FB page. We have partnered with Broadstreet through our web host, Locable, to offer you an opportunity to share your Facebook posts with our large online audience. We get over 4,000 pageviews monthly on our three websites.

Broadstreet sweeps your Facebook posts every hour and puts them on every page of all three of our websites (on the right side). As many times as you post your information, we update it hourly.

Cost is $20/month for all three websites (HERE IN HANOVER, WOODSTOCK MAGAZINE and IMAGE). Total cost is $240 for one year. Starts in November. Can we count you in?

Bob
Next Steps
Use the pitch above to send 40 emails out to existing or friendly advertisers who are active on Facebook and follow up with them regularly until you get a yes or no.
"It's a big winner with restaurants, hotels with restaurants, event centers and retailers!"

- Bob Frisch, Publisher of Mountain View Publishing
Remember, advertisers spend a ton of time on Facebook but struggle to reach a lot of people because Facebook's newsfeed algorithm limits their reach. The Emcee Beats Mixer ad lets them increase their reach and get more out of their Facebook efforts with very little extra work!.
Rinse and Repeat until you hit your goal!
---
Broadstreet's specialty ad formats are included with Premium Membership in the Locable Publisher Network. Contact us today to sign up or upgrade.