Digital Services Cohort for Local Publishers - Become a Local Marketing Agency
---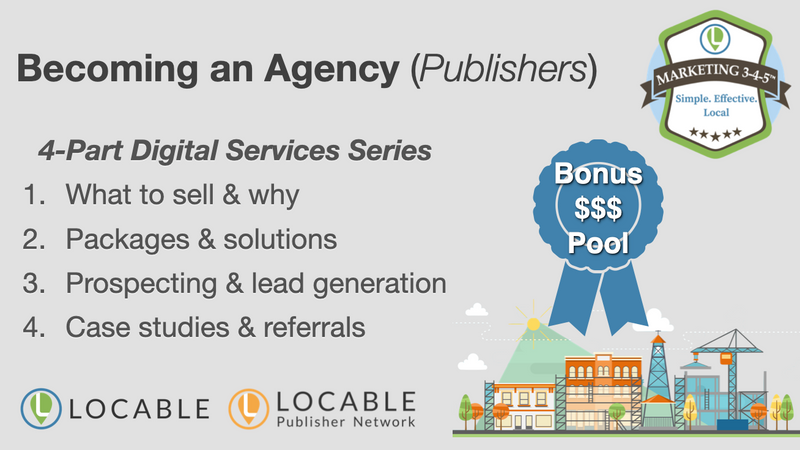 As a local magazine or newspaper publisher, you're in a position to help small businesses with their web presence and other fundamental marketing activities that are critical to an effective marketing strategy.

You have a moral obligation to try and help if you take money for advertising
Advertising with you online and in print drives web traffic to your advertiser's website by interested customers.
If their foundation is bad then you could have an effective ad that doesn't lead to clients. That's bad news for them and irresponsible of you. If you take their money for advertising and you don't try to help them improve their website and presence you're stealing from them!
When you're able to assist with digital services you grow revenue while protecting your core business by boxing out would-be competitors.
A Cohort-Based Approach: This cohort is limited and exclusively for publishers committed to growing revenue and impact.
This cohort will complement and extend our 21st Century Local Publisher Course and add accountability to help you accelerate your growth.
Our 4-part digital services series includes:
What to sell & why
Packages & solutions you can offer
Prospecting & lead generation
How to leverage case studies & drive referrals
We will cover many of the key elements of Locable's Partner Program - you can choose to participate as a Reseller Partner - or - Referral Partner and earn commissions in both cases. No added work is required to deliver for clients and, as you'll see, you even gain access to more local content for your website.
Price: Free for LPN publishers in good standing who complete the course, $1250 for other local publishers
Agenda:
The initial 4 sessions will walk through the process of selling digital etc, there will be work to be done before and after each session to prepare and implement the learnings. These will be simple 'homework assignments' designed to help you drive revenue very quickly.

We'll also have 3 follow-up sessions to discuss your findings, objections, successes, and more. Each session is expected to run for about an hour.
Expectations:
Grow revenue from existing advertisers (initially $1-3k)
Engage non-advertisers ($1-3k in digital services plus new revenue for digital advertising as well as print)
Get new free content for your calendar, job board, volunteer board, etc that updates automatically via digital services clients
Potential to win Bonus Pool money from Locable
Requirements:
Must be a publisher in good standing with Locable Publisher Network or pay a registration fee
Must commit to attending all live sessions with sales staff and completing assignments (otherwise, what's the point?)
Must share initial revenue goal and progress toward the goal with the group
Join our interest list below to be included in our next cohort.